Vietnam Tour Operator
Pham Tours
Over 20 Year Tradition of Putting The Customers First 
You are dealing direct with a wholeheartedly recommended local tour operator with a passion to create a nice image of a beautiful Vietnam by experiencing authentic daily life, not because of gratuities and shopping scams.   
Legal Guarantee for a Vietnam Tour Operator 
An important factor  in obtaining an international license is a requirement to set up a secure account at a state bank and deposit a substantial cash bond of 250 million VN Dong = about 12,500 USD to be used solely for the purposes of guaranteeing financial security in respect of customers' advanced payments as well as the quality of travel services. The Vietnam National Administration Of Tourism is a compulsory signatory, so no withdrawals can take place without VNAT's official permission.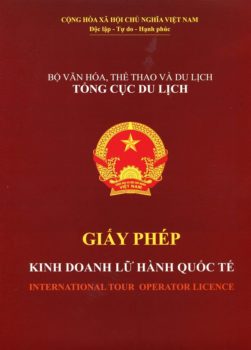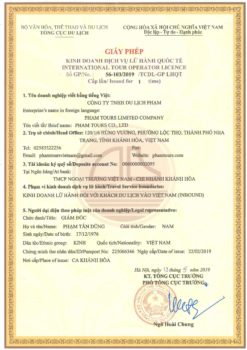 Why should you book with us ? 
1, All Vietnamese tourism companies dealing with international travelers are required to obtain an international operating license. In practice, some 'rogue' companies do not apply. They touch tourists directly by using some sales channels like web forums… Some trendy illegal companies and tour guides also make a simple travel website and contact the internet travelers directly! According to the law on tourism, working with foreign tourists legally, licenced guides must have a labour contract with an international tour operator and a detailed tour programme sealed by the legal company. Choosing an independent tour guide without a company behind him is not allowed under the law within the country of Vietnam, if the driver is stopped by the tourism inspectors and they find out running a unlicensed tour it will be a issue for the guests. Nobody likes being cheated by unscrupulous companies and tour guides that try to bend or break the rules. Using a real licensed tour operator protects the guests on the tour.
2, There are many types of tours out there that are cheaper but may not be of quality. From our record of satisfied travelers, we have always pride ourselves on being fair and most importantly making sure our traveler have a memorable experience. You are offered services worth every money of yours. 'Cheap' is synonymous with 'nasty', spoiling your holiday. With us, what is listed is a minimum – what you get is more than you expect. Know that we need to pay well for those services to maintain high levels. On our private tours (No Join-in Group Tour), you won't feel like you're part of a herd. We value your independence and individuality as much as you do.
3, We live in the recommendation of our nice clients. Caring for  travelers has to come from the heart so we always strive to create a life-long relationship with you, based upon knowledge, service and trust, so you can live life to the fullest and travel in style! We treat each and every one of our clients as a part of our constantly growing family and look for our guests before, during and even after their holiday. We create attractive and emotional experiences for those seeking for authentic, unique and tailor made holidays with a high cultural content. No one can take care of their clients like what we have done for our clients because we want you to be happy and to come back with us again.
—————————————————————————————-
99% of our tourists recommend our services because we take you to the places where your souls and hearts belong to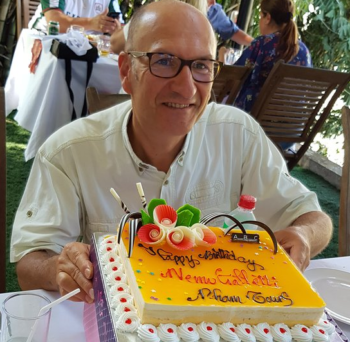 Email:  phamtoursvietnam@gmail.com                     
Hotline: 0914047406 or +84 914047406  
Whatsapp: +84 914047406 
Mr Dung Pham (English French speaking)  Languages are not barrier         
Office location: 120/1/6 Hung Vuong, Nha Trang, Vietnam
When you go to 120 Hung Vuong (opposite BIDV hotel), please walk in the alley, you will see Dollar Hotel. Please turn left, you will see a new 4 storey house. Please turn right and take some more paces. We are located on the right
( It means from Dollar Hotel, turn left and take the second alley on the right, walk a little further, you will find our company on the right ) Nha Trang Tours
If you can't find us, give us a call or write to us
 Vietnam Tour Operator, Vietnam Tour Operator, Vietnam Tour Operator, Vietnam Tour Operator